Reprinted from SRQ Daily
Sarasota Coun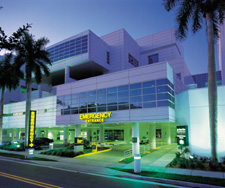 ty Hospital Board Candidate, Jack Brill, confirmed that he was approached a few weeks ago by a PAC who offered approximately $30K in support if he would agree to back their efforts to privatize Sarasota Memorial Hospital (SMH). Not able to confirm the rumor the PAC is putting up a "slate" of candidates, Brill did say after a few conversations with Anthony Pedicini, the PAC's representative, he turned them down. Prompting the response from Mr.Pedicini, "We don't need your permission."
Anthony Pedicini, known around Sarasota for his work on Peter Lombardo's campaign against State Attorney, Ed Brodsky.
In an email, Mr. Brill connects Mr. Pedicini to Governor Rick Scott's former company, Hospital Corporation of America (HCA). HCA is the for-profit operator of health care facilities that is already running 20 hospitals between Tampa and Port Charlotte, including Doctors Hospital in Sarasota, Blake Hospital in Bradenton, and Englewood Community Hospital.
Since the early 1990s there has been a large effort by HCA to turn public hospitals private. Motivated by the need to level the playing field, and for the opportunity to be able to receive public funds, the HCA has been systematically putting the pressure on municipalities with the help of our state legislature.
Stating that public hospitals were a burden on the tax payer, in 2012 Gov. Rick Scott signed a law that requires public hospitals to show justification for them to remain public or come up with a list of possible buyers. They are also required to hire an outside firm to assess the hospital's fair market value. By March of 2013, SMH Board found itself taking a vote to keep Sarasota Memorial Hospital a public hospital.
It is believed that HCA has set aside $250,000 to launch this campaign.  Reaching out to more than Jack Brill and other hospital board candidates, Mr. Pedicini also contacted Florida State Representatives and candidates as well.
For those of you who are thinking that privatization is a good thing, you need to realize what that would really mean to our community. The first loss that would be felt would be maternity care. Because of its low margin and high risk, maternity was dropped by HCA at Doctor's Hospital almost a decade ago. Without SMH maternity care, woman would end up traveling to Tampa to deliver their child.
Our care for expectant mothers is something that is recognized nationwide. HealthGrades ranked Sarasota Memorial Hospital in the top 5 percent of hospitals in the nation for excellence in women's health and maternity care. And for the past 10 years, Sarasota Memorial is the only hospital in the country to receive both the Maternity Care and Women's Health Excellence Awards since their inception. Why would we give that up?
Additional losses would be felt with long-term care, prisoner care, indigent care, the NICU, and the ICU… all services that have no profit margin and yet are a moral obligation to a civilized society.
Every incumbent is a Republican.  Every incumbent has a Republican challenger. That means that the vote you cast in the August primaries will determine the election. It also means that it is an open primary and everyone gets to vote. So even if you don't have a candidate in other elections, you still need to get to the polls and vote in this race. Don't ignore this race. Ask the candidates on record their position of keeping SMH a public hospital. Your health may depend on it.
As of 07/10/14, a new PAC, Save Our Community Hospital, was opened to support keeping SMH a public hospital.  According to the PAC, as of 7/11/14. They have raised over $60, 000.00.
SRQ Daily Columnist Susan Nilon is the president of Florida Talk Radio and owner of WSRQ Radio. She hosts The Nilon Report on WSRQ Sarasota 1220AM/106.9FM weekdays 4pm-6pm.